2020-2021 SUMMER SUNDAY REGGAE SERIES FEATURED ARTIST: MARK LONGENECKER
Capt Hirams Resort is thrilled to announce Mark Longenecker of Endless Summer Tattoo as the logo artist for the 2020-2021 Summer Sunday Reggae series.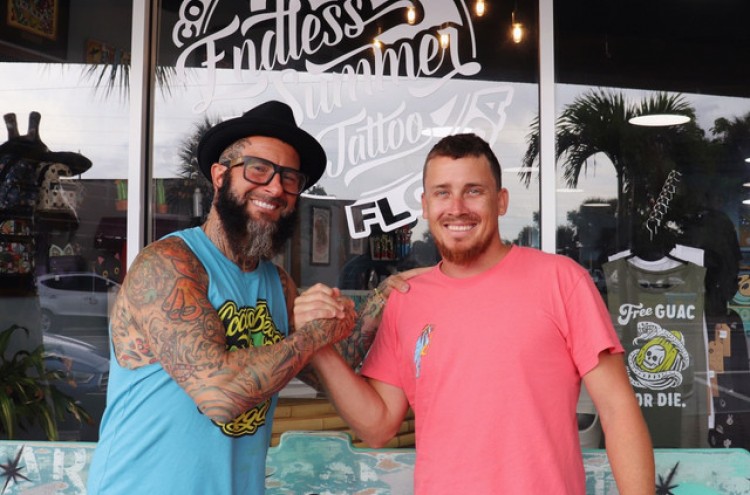 Mark is a well-known artist and reggae DJ based out of Cocoa Beach, Florida. We began to discuss the idea of designing the 2020-2021 logo with Mark after he tattooed last year's logo on a dedicated reggae fan! You can check out the video here. We got to learn more about Mark's artistic inspiration and his passions for reggae music and art.
How long have you been a tattoo artist in Florida?
I started tattooing in Key West around 1995. I went straight there after I graduated from the Savannah College of Art and Design to do design work for Jimmy Buffett. My first roommates were tattoo artists at a shop called Goldie's Southernmost Tattooing. I started getting tattooed a lot and designing tattoos for my friends. Then I started working the front counter and helping clients with custom designs. Next thing I knew I was apprenticing there at night after my 9-5 graphic design job.
Can you explain your artistic style and any common themes in your art?
I coined the phrase Tropistyle a long time ago. I remember coming to my buddy who was mentoring me on how to draw Japanese tattoos. I told him "I have an idea to use the traditional Japanese backgrounds with more tropical imagery. Instead of phoenixes, dragons, Hannya Masks, and koi fish I would use parrots, eels, tiki tasks and sharks. Wouldn't it make more sense to use the imagery we are used to seeing in Florida than stuff from Japan?". He told me it's best not to change up Japanese tattooing and just do it the same way it has been done for years. So, as you can see, I didn't listen. I love to use Florida style imagery in my art. I am most connected to the ocean and all its amazing creatures. I am also connected to the beach and sunsets, palm trees, tikis and so on. That is the kind of stuff that gets me super stoked!
Can you explain a little bit about your background in reggae and how you became a DJ?
I have been going to Jamaica every year for the past 15 years, sometime even twice a year. I really feel like I may have been a Rasta Man in a previous life. Although I am not a Rasta, I feel a strong connection to the Rastafarian culture. I didn't start as a Reggae DJ, I originally started spinning techno and was all about the Rave scene back in the early 90's. I learned mixing on real vinyl records and using turntables. It was all about seamless beat matching and working the crowd into a frenzy with different build ups. I moved on to focus on break beats and then Drum and Base and Jungle. Once I learned about Jungle everything changed. This was more about DJing with a live MC and really making a connection with the crowd through the MC. Then I met Lance-O from Kulcha Shok and I saw what a true reggae DJ was. That was it, I never looked back, and I put all my focus on reggae DJing and that's about when I started traveling to Jamaica.
What's it like to be a part of the reggae scene in Florida?
Well, when you think of beaches and beach parties you think of reggae. Florida has more beaches than any other state in the U.S. We are almost surrounded by beaches on all sides except for the top of the state. So, reggae is an easy sell here. Florida is also the closest state to Jamaica, so we get all the best reggae artists coming through here. Their first stop is usually Miami. So honestly, I say we have the best scene in the country.
What is your favorite part of being a reggae DJ?
I love Sound System Culture. I believe it can be more fun watching and dancing to an amazing reggae DJ play a song by your favorite reggae artist then watching that reggae artist perform live. That would probably sound crazy to most people. Why would you want to see a DJ play the music over the actual artist perform it live? It is hard to explain, but if you have been to a real Sound Clash or Sound System party then you know the feeling I am talking about. You would have to see someone like David RamJam Rodigan or Mighty Crown Sound to understand what a Top-Ranking Reggae DJ is. The Sound System style is the same formula that super star DJ Diplo used to make Major Laser huge in the EDM scene.
What is your favorite sub-genre of reggae?
I really love Roots & Culture and Foundation reggae. Late 60's and 70's reggae was very spiritual and soulful. So, a lot of this music would be before Bob Marley blew up and the whole world learned about reggae. But Bob Marley is considered "Roots" reggae as well. it was just an epic time in reggae. The last 5 years spawned the "Reggae Revival" with young artists like Chronixx and Protoje bringing it back to the roots. It can take an older crowd to really appreciate it when I drop the old Foundation tunes. Sometimes I must get the younger crowds' attention with some Sean Paul or Koffee to get them dancing before I drop the Foundation on them. My favorite mix I ever made is called "Back to the Foundation" and can be heard on Soundcloud on my page Dub Massive Sound.
How do your passions for art and reggae overlap?
I have done album covers for local reggae bands like Part one Tribe, New School Drop-Outs, Lights Out Project and Coastal Breed. I have also tattooed Tribal Seeds, Fortunate Youth, Jesse Royal, Ky-Mani Marley, Pepper and Ballyhoo.
What was the inspiration behind the design for the 2020-2021 Summer Sunday Reggae Series logo?
I knew it had to be a parrot theme so that immediately took me back to where I started my art career with Jimmy Buffet. I was always drawing parrots in hammocks drinking coronas and margaritas back then. So, this project was really fun because it made me feel like I have come full circle.
Check out Mark Longenecker and Endless Summer Tattoo shop on Instagram here