Giving back to our community by working with local nonprofits, hosting charitable events, and supporting causes we're passionate about is something we, at Capt Hirams Resort, are proud to do. Since opening in 1986, we have operated with the understanding that our community is stronger together.
From cleaning our waterways, to fighting childhood cancer, to raising funds for those who keep us safe, Capt Hirams Resort is committed to crushing as many goals as possible!
2023 Charity Crush Calendar Recipients
The Charity Crush Calendar has been a staple of Capt. Hiram's Resort's community outreach efforts since 2018. The Crush Calendar is comprised of twelve different nonprofits and community organizations – one for each month of the year. Each month $1 from every Capt's Crush, our signature cocktail, is donated to the featured organization. Once the donations have been collected, representatives from both Capt. Hiram's and the featured non-profit meet for a check presentation and photograph. From cleaning our waterways, to supporting community healthcare, to building affordable housing for families, we are committed to "crushing" as many goals as possible!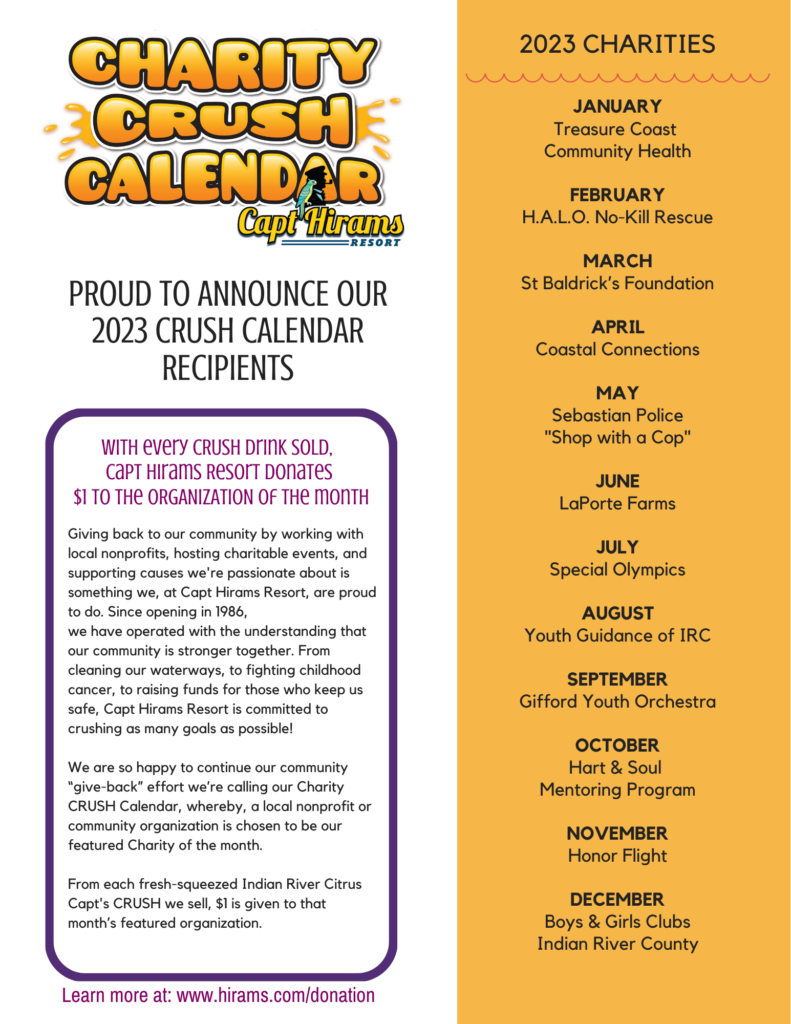 CAUSES WE CARE ABOUT
While we have been fortunate to be able to have contributed over $250,000 over the years, we are unable to fulfill all requests received. Our big focus is in the following categories when it comes to donation considerations:

OUR YOUTH

COMMUNITY ASSISTANCE

ANIMALS OF ALL KINDS

OUR RIVER AND ITS SURROUNDS

ACTIVE & RETIRED VETERANS
SUBMIT YOUR REQUEST


HIRAMS CARES!

For us to consider your donation request, please share the exciting details of your request with us! We review each and every request submitted and will never share your personal information with anyone not associated with Capt Hirams Resort. We do have causes that are near and dear to our hearts: Our Youth – Our River and its Surrounds- Community Assistance – Animals of all Kinds -Active and Retired Veterans. *We do not donate to political parties or affiliations of any kind.