5 UNFORGETTABLE WEDDING WEEKEND MEMORIES BY CASIE SHIMANSKY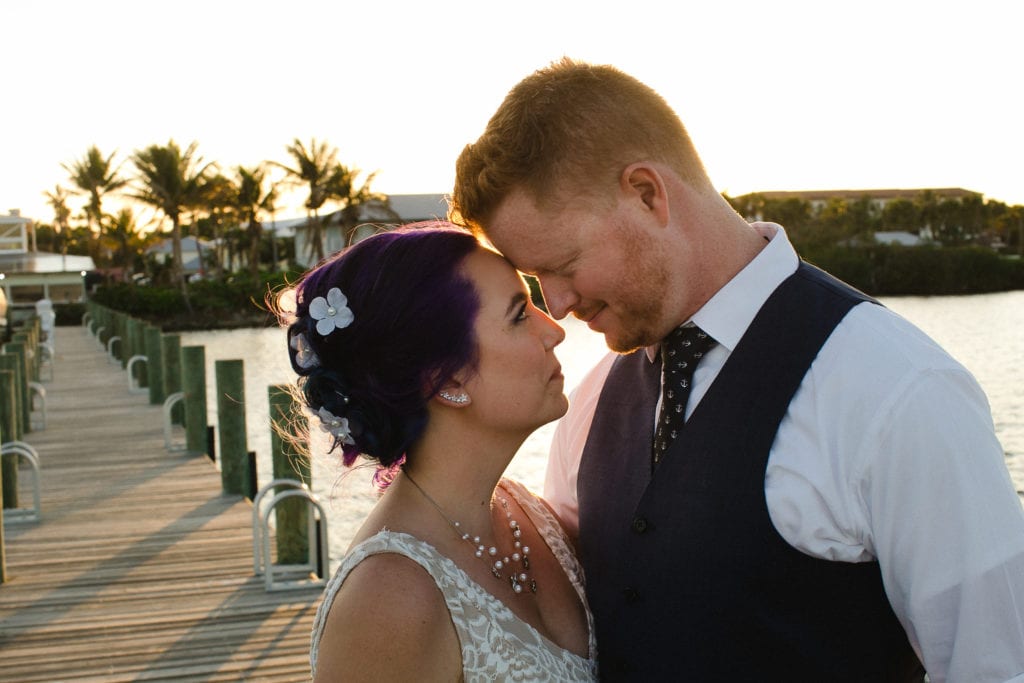 You've now (hopefully) read all about Get Married, Go Bald and about how we chose Captain Hiram's as our wedding venueand even all about our wedding day. But Capt Hirams Resort is so much more than just an event venue, and the location for one of the best days of our life took place – to us, Capt Hirams Resort has become a home away from home. And we've got the scrapbook to prove it.
I knew, for our wedding, our priorities were on the EXPERIENCE of the day – in celebrating each other and the people who supported us and loved us and showed up for us time and time again – and not so much on the details no one ever would ever remember.
We hadn't been married more than an hour before we heard from multiple people that it was truly one of the most PERSONAL weddings they had attended, and from start to finish – it was uniquely us.
I never had an idea of what our wedding day would look like, but I was proud in the days, weeks, months (and now a full year later) that followed how friends and family gushed over the experience, in how we did it "our way" — and how it's not just a day Sean and I will never forget – but in how it's a weekend none of us will ever forget.
Here are five unforgettably moments from our wedding weekend at Capt Hirams Resort (that didn't include our wedding or going bald for St. Baldrick's):
1. The Fire Pit – Wedding Eve
The night before our wedding, we didn't do a traditional rehearsal dinner. We figured everyone would know their places, and we had a general idea in mind for how the day would go. So, we reserved this night to celebrate friends and family who had traveled, both near and far. We had dinner at the Sandbar Beach Club (commandeering the Anita Boat as our headquarters) and as the sun tucked itself just beyond the horizon, we moved over to the fire pit on Bimini Beach – drinks in hand, stories at the ready. And that's where we remained for hours – catching up, laughing, and counting down the hours to wedding day. It was incredibly perfect, and I loved sitting across the fire pit watching my dad (left) tell his cousin Doug (far right) story after story.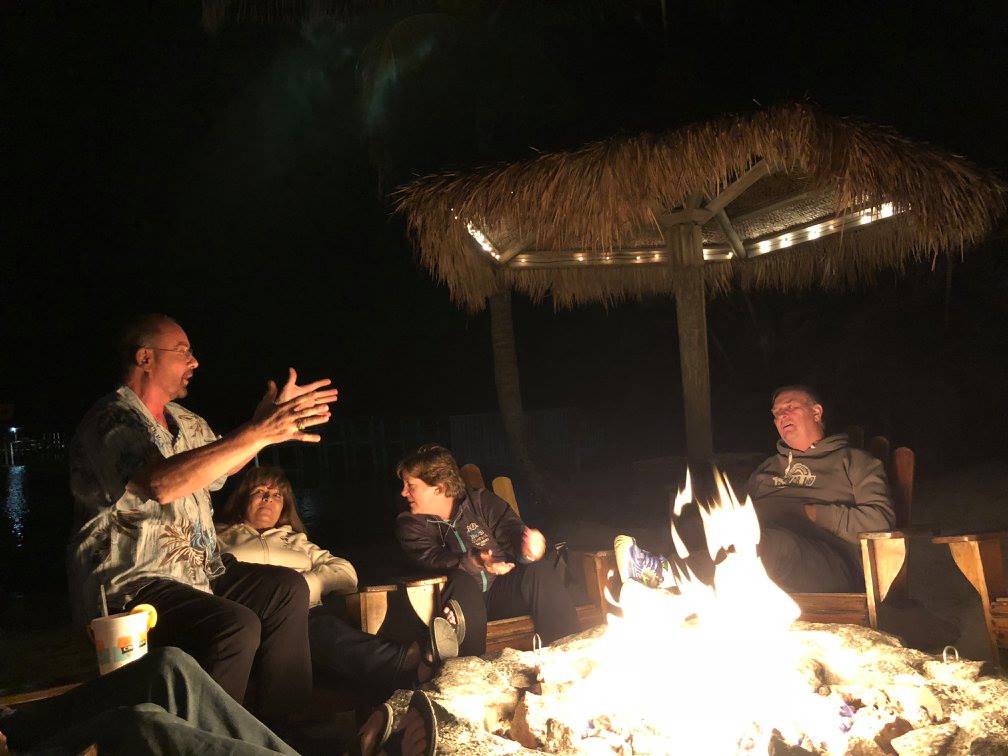 2. Bimini Beach – The Day After
All I wanted for our wedding weekend was, really, to find ourselves beach-side, all day long, with our best friends reveling in the sunshine, voodoo buckets, and laughter. The Friday after our wedding did not disappoint. We were all up at a reasonable-post-wedding hour where we enjoyed breakfast at Blackfins Riverfront Grill. From there, we signed ourselves up for a non-stop day of memory making with family and friends. While it was a bit chilly in March for swimming, and a bit too windy for kayaking – we totally recommend adding those to your 'chill' days on the Indian River.
3. The View from Here
There's a saying, "Here's to the nights we'll never remember with the friends we'll never forget." The cool thing about being (mostly) in our thirties is that we'll always remember these nights because, naturally, we know our limits and all about hydration now. After a day spent on Bimini Beach and snacking our way through the delicious Sandbar Beach Club menu, we went back up to our room that overlooked the Sandbar to refuel for the evening.
Never underestimate the power of having almost everyone you love, no matter where they live, in the same spot – especially when that spot is Capt Hirams Resort.
4. Time to Dance!
As the sun went down, the music turned up – and we were ready for it! What's better than a day of beaching, drinking, and memory making? Well, a night of all that plus great music and a non-stop dance party! If you're looking for a spot to continue the party, Capt Hirams Resort is it and we LOVED that Hiram's had it all!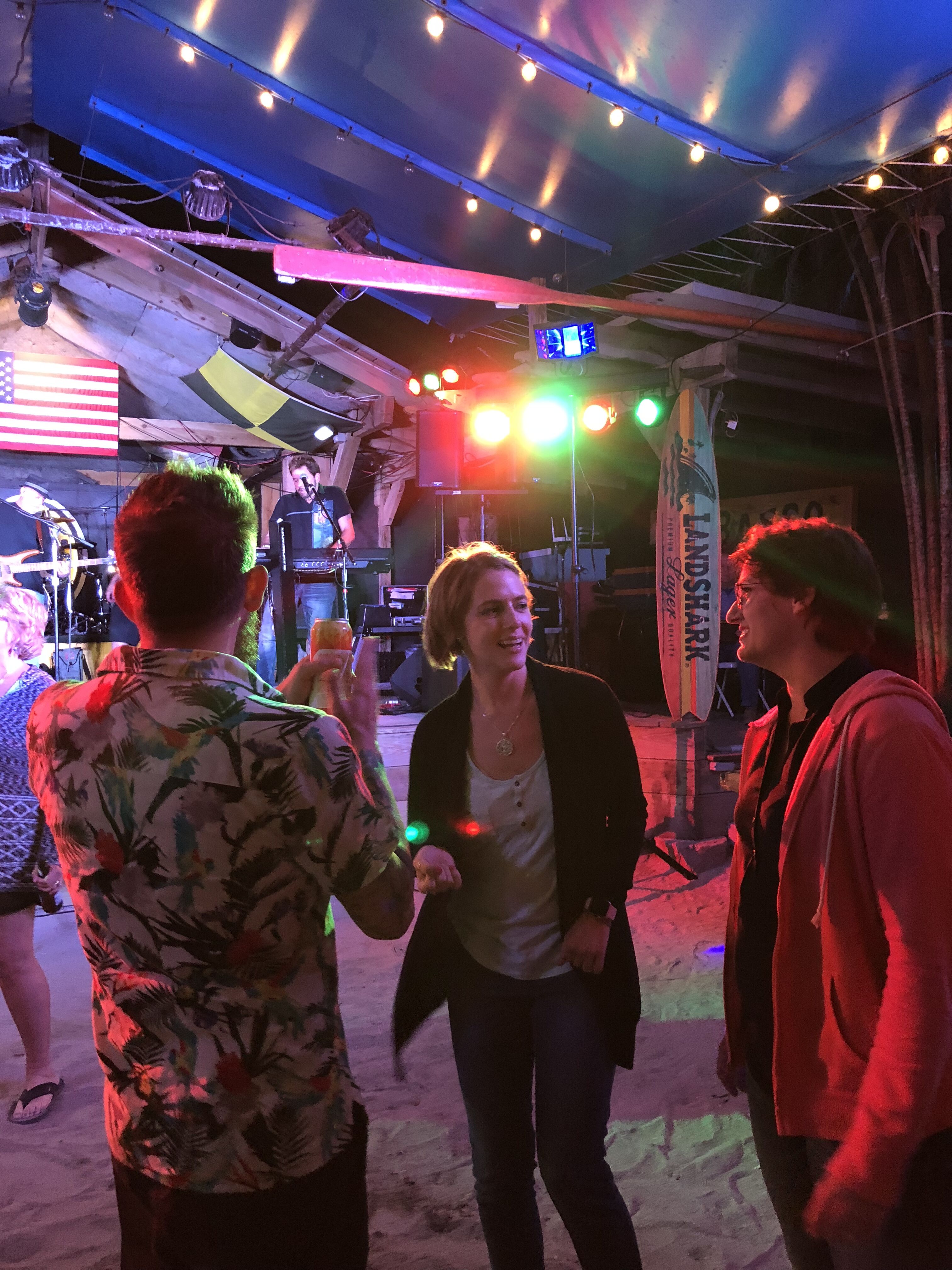 5. The Last Morning
Okay, I lied – but at least this one includes getting married AND going bald all in the same photo! We truly could not have asked for a better weekend celebrating two huge, monumental moments in our lives surrounded by our family and friends. And it was the perfect send off to wake up Sunday morning, freshly bald, to get back into our wedding attire for one last round of photos.
Capt Hirams Resort truly helped us celebrate in ways we never knew possible, and now – not only is Hirams a 'home away from home' for us – but it is that for our friends and family too, who all ask when the next trip is, or how many days until Shave Day/Hiram's Weekend we have left.
We're already counting down to March 2020!
To learn more about what Capt Hirams Resort can offer for your event or wedding please visit www.hirams.com.
Follow us on social media!
Facebook: Capt Hirams Resort
Instagram: @capthirams
Pinterest: Capt Hirams Resort & Capt Hirams Weddings