Capt Hirams Wins 2021 Travellers' Choice Award!
Capt Hirams Resort Wins 2021 Tripadvisor Travelers' Choice Award for Being in the top 10% of Hotels Worldwide
Capt Hirams Resort Great
Traveler Reviews Earn it a Place Among Travelers' Favorites in the United
States of America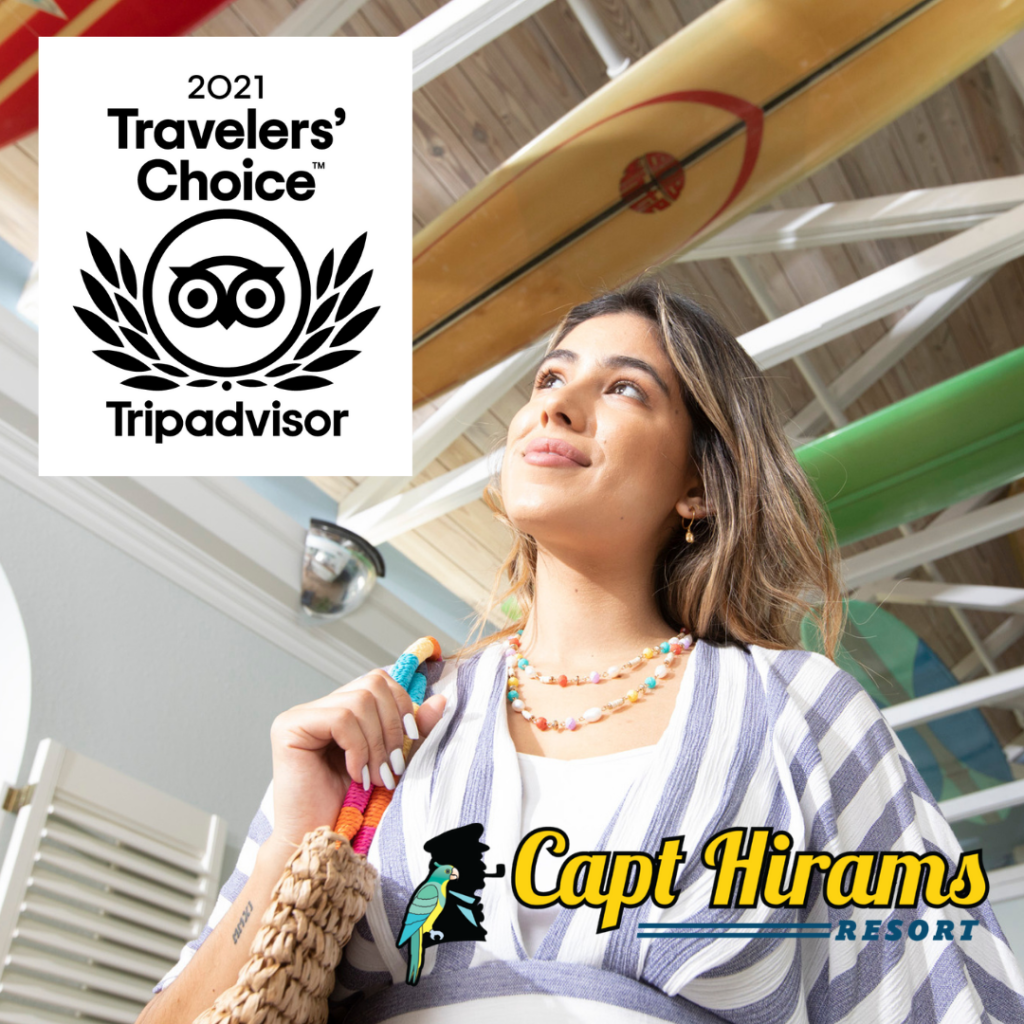 Sebastian,
Florida – May 20th, 2021 – Capt Hirams Resort today announced it has
been recognized as a 2021 Travelers' Choice award winner for being in the top 10% of hotel
travel destinations in the United States.
This achievement celebrates businesses that consistently deliver
fantastic experiences to travelers around the globe, having earned great
traveler reviews on Tripadvisor over the last 12 months. As challenging as the
past year was, Capt Hirams Resort stood out by continuously delighting
travelers.
"Our goal is to ensure everyone feels like
family here at Capt Hirams and it is an honor to be selected to win this award
because of that. We will wear this badge with pride and continue to better our
selves in everyway we can for our guests." – Richie Rego
"Congratulations to all the winners of the
2021 Travelers' Choice Awards," said Kanika Soni, Chief Commercial Officer at
Tripadvisor. "I know the past year has been extremely challenging for tourism
businesses. What has impressed me is how businesses adapted to these
challenges, implementing new cleanliness measures, adding social distancing
guidelines, and utilizing technology to prioritize guest safety. The Travelers'
Choice Awards highlight the places that are consistently excellent – delivering
quality experiences time and time again even while navigating changing customer
expectations and new ways of working. Based on a full year of reviews from
customers, this award speaks to the great service and experience you provided
guests in the midst of a pandemic."
To see all that Capt Hirams Resort has to
offer for a great guest experience, visit https://hirams.com/
About
Capt Hirams Resort
In the sun. Over the past thirty
years, Capt Hirams Resort has become a beloved destination for both locals and
tourists alike.
Capt Hirams Resort has been a
staple of the Sebastian community since 1986, transitioning from a marina to a
raw bar to now the area's largest waterfront resort and restaurant. The
property was purchased in 1986 by Tom Collins, partnering with Martin Carter
and Jimmy Hoffman. They successfully operated the Sebastian Inlet Marina which
would become Capt Hirams River Raw Bar. The name "Capt Hiram" is a nod to the
late Sergeant Hiram Collins, Tom's great uncle, a World War II soldier who was
killed on Normandy Beach. In the 1990s, the property expanded with the addition
of the Sandbar Beach Club – a favorite spot for a cool drink paired with a warm
breeze. Over the years the Sandbar has expanded with the addition of the Coral
Bar, Scoops Two Drink Bar, and two stages which host live music daily. Hotel
accommodations were first added in 1994 with four Captain's Quarters rooms
located above the marina's ship store. The Resort now has three buildings with
a total of 86 hotel rooms and gorgeous waterfront views available.
At Capt Hirams Resort you can work
hard but play harder. With a variety of meeting and event spaces as well as
several catering packages, your group is going to feel right at home. Whether
you are planning a summer vacation, a wedding, a family reunion, or even a
corporate retreat, Capt Hirams Resort is your one stop shop for authentic
Florida fun.
1606 Indian
River Drive Sebastian, Florida.
Facebook: Capt
Hirams Resort
Instagram: Capt Hirams
Resort
Website: www.hirams.com
About Tripadvisor
Tripadvisor,
the world's largest travel platform*, helps hundreds of millions of travelers
each month** make every trip their best trip. Travelers across the globe use
the Tripadvisor site and app to browse more than 878 million reviews and
opinions of 8.8 million accommodations, restaurants, experiences, airlines and
cruises. Whether planning or on a trip, travelers turn to Tripadvisor to
compare low prices on hotels, flights and cruises, book popular tours and
attractions, as well as reserve tables at great restaurants. Tripadvisor, the
ultimate travel companion, is available in 49 markets and 28 languages.
The
subsidiaries of Tripadvisor, Inc. (NASDAQ:TRIP), own and operate a portfolio of
travel media brands and businesses, operating under various websites and apps,
including the following websites:
www.bokun.io, www.cruisecritic.com,
www.flipkey.com, www.thefork.com (including www.lafourchette.com,
www.eltenedor.com, www.bookatable.co.uk, and www.delinski.com),
www.helloreco.com, www.holidaylettings.co.uk, www.housetrip.com,
www.jetsetter.com, www.niumba.com, www.seatguru.com, www.singleplatform.com,
www.vacationhomerentals.com, and www.viator.com.
* Source: SimilarWeb, September 2020
** Source: Tripadvisor internal log files