What's The Scoop?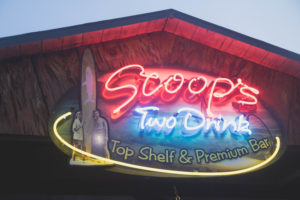 Scoops Two Drink Top Shelf bar is one of the best places at the resort to watch live music, sip on cocktails, and enjoy the island style atmosphere. We sat down with Capt Hiram's President, Will Collins, to learn more about the history of the bar and how it got its name.
When did Scoops join the lineup of bars and restaurants at Capt Hiram's Resort?
Scoops is the newest bar we have. It was part of a renovation that was done in 2009.
What led to the renovation?
The renovation came about because there was a demand for more space. The increased popularity of the SandBar urged us to create a new and unique space to enjoy the atmosphere.
Can you elaborate on the family history that inspired the Scoops Bar name?
The formal name of the bar is Scoops Two Drink Top Shelf Bar. Scoop was my grandfather's nickname and my grandmother, Anne, had the nickname of two drink. You can probably guess why she had the nickname of "Two Drink". It was something along the lines of it only took two drinks for her to have a good time. It was my dad's idea to build and name the bar after his parents as an homage to them.
The logo includes a photo of Scoop and Anne (Two Drink) posing together on the beach with an awesome redwood surfboard that my grandfather made himself. It was a 20-foot board that he carved it all by hand in the 1960s.
Was he an avid waterman?
Yes, but that stems from a funny family story. My dad's family is from Baltimore, Maryland. Sometime in the early 1950s my grandmother decided, without really asking anyone, that they were going to move to the beach. She was sick of the city, so they moved to Ocean City, Maryland. The way it was explained to me was that there was no negotiation – they were moving to the beach! Scoop probably wasn't a beach guy to start but he became one.
Was it your father that originally planned the creation of the Scoops Bar?
Adding Scoops was a project that was important to him and I know a lot of effort went into getting all the details just right. It wasn't about just adding another bar, it was about incorporating a part of our history and our family into the fabric of who we are here. We are a family run business and the Hirams family is a part of that as well.
Since it's a top shelf liquor bar, it is meant to be a more elevated experience. The idea is that you experience a slightly better level of service, a high attention to detail, and of course top shelf cocktails. They did a great job representing the mix of casual and exclusive.
Were you involved in the planning or construction of the bar?
In 2009, I was a junior in college, so I remember the bar being built but I was not here during that time. I remember talking through the concept with my dad and him being proud of it and what it was representing. I'm very proud that we still have it today and that it continues to be a favorite spot for many of our guests.
How has the family history influenced the growth of Capt Hiram's Resort?
We are family-run business and we are very proud of that. However, that family is not limited to blood relatives. We have been here for a long time and have grown naturally with this community. It is important to me personally that we keep that in mind as we continue to develop. We try hard to be inclusive in our decision-making processes so that we make decisions that are in the best interest of the community. I believe that is a key contributor to why we have been able to stay here for so long. We didn't just show up here and say we're going to build this huge resort; the restaurant and resort were able to grow with Sebastian over the years and reflect what the community needed. We are only as good as the sum of our parts and it is important for us to continue supporting our team and town.
What do you see for the future of the Resort?
It's important for us to continue to be proactive when addressing what the business and community needs. With that, it is also important to be patient and listen to the needs of the team. I would like to see us continue to be involved in the well-being of the city of Sebastian and the people that live here.
Will Collins is the President of Capt Hirams Resort. His father, Tom Collins, opened the Sebastian landmark in 1986. The Resort takes its name from Sergeant Hiram Henry Collins, Tom's Great Uncle, who was killed on Normandy Beach on D-Day.